M1 Dash Cam
$330
ESCORT's industry leading radar detectors now have the perfect companion. The ESCORT M1 Dash Cam captures crystal clear video and shares easily on your smartphone for video/audio clip saving, editing, and sharing. Its sleek design keeps your dashboard clean and discreet.
---

ZR5 LASER DEFENSE SYSTEM
$1350 + install

In Stock!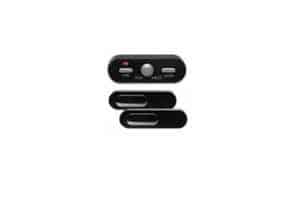 Laser ShifterMax sensorsincorporate true laser diodes to maximize effectiveness against targeting laser guns including the latest variable pulse laser guns like Dragoneye. Software Upgradeable. Stand-alone system includes 2 sensors, you may add 2 additional sensors with the ShifterMax-Pack. May be connected to a MAX360, Max, Max2, Passport, X70, IX, X80, Redline EX
---

PASSPORT Max 360C

In Stock!
$1060

The new ESCORT MAX 360c is the first radar and laser detector designed for the connected car. With built-in Wi-Fi, the MAX 360c updates through the on-board Wi-Fi connection and alerting the driver to the latest ticket threats in real-time.
The new ESCORT MAX 360c connects directly to the connected car's Wi-Fi and automatically connects to ESCORT Live, our exclusive real-time ticket-protection network, without the need for your smartphone to connect to the detector. ESCORT Live keeps drivers aware of upcoming alerts received and reported by other users in the area, and gives you access to local speed limit data for over-speed alerts, right out of the box.
---

X80

In Stock!
$500
The ESCORT X80 provides long-range protection and early warning against all radar bands including conventional and instant-on guns. High performance laser sensors provide maximum laser warning.
With integrated Bluetooth wireless technology the ESCORT X80 is compatible with ESCORT Live!
Features :
ESCORT Live! app (crowd sourced alerts through bluetooth connection)
Brilliant OLED graphics
Dual suction cup mount
Radar detection (X-band, K-band, SuperWide Ka-band, POP mode)
Traffic sensor rejection (eliminates false alerts)
Laser detection
---

SOLO-S4

In Stock!
$495
No other detector matches the portable convenience and protection of the SOLO S4. It's easy to own and operate. No more cords – just place it on the windshield or dashboard, turn it on, and you're ready to go. The SOLO S4 is ideal for the traveler who is constantly in and out of rental cars or just wants the easiest-to-use protection.
SOLO S4 uses only a fraction of the power used by conventional corded detectors. Using 2 standard (AA) batteries (included), the SOLO S4 provides months of normal driving protection. A low-battery warning circuit keeps constant watch on the condition of the batteries, and provides you with both audible and visual alerts before they need to be replaced. A AutoPower feature (programmable) automatically turns the SOLO S4 off to conserve battery life.
---