OVERHEAD ENTERTAINMENT SYSTEMS
Our Advent overhead entertainment systems come with a full 3 year/60,000km warranty when installed through any Dealership by ARA.
---
Compact design 8.5 inch monitor with built-in side load DVD player – ADV850 

In Stock!
$550 + install
(Grey / Tan Shroud)
The ADV850P 8.5-inch overhead system in pewter comes with a built-in DVD player and dome lights. This system also features audio / video input for additional video source units, built-in 5 channel wireless FM modulator, wireless headphones and remote control.
8.5″, 16:9, full contrast color monitor

Integrated, slot loaded, DVD player

Aux input

5 channel wireless FM modulator

IR transmitter

Dome lights

Wireless remote control
---
10.1-inch Hi-Def digital monitor with built-in DVD player/USB Video – ADVDLX10  In Stock!
$720 + install
(black, grey or tan shrouds included)
The ADVDLX10AA 10.1-inch Hi-Def digital overhead system will transform any backseat into a traveling movie theater. This Hi-Def system features switchable 16:9/4:3 aspect ratios, a USB reader, audio/video inputs and outputs as well as a built-in 100 channel FM modulator with FM transmitter functions and 2 wireless headphones. Not to mention the best warranty in the business, up to 3 year/60,000km full replacement warranty.
Interchangeable shale, pewter and black trim rings and snap-on covers

USB reader

Audio/video inputs and outputs

Integrated IR headphone transmitter

Built-in 100 channel FM modulator with FM transmitter functions (use optional FMDIRB for a hardwire FM modulator)

2 wireless headphones
---
12.1″ Digital Hi-Def Overhead Monitor System with DVD and HD Inputs 

In Stock!
(black, grey or tan shrouds included)
$1380 + install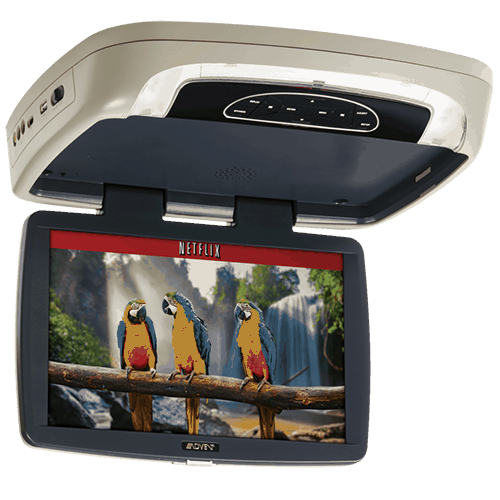 The ADVEXL12A 12.1-inch Hi-Def overhead monitor system with DVD and HD inputs will transform any backseat into a traveling entertainment center. This systems features user accessible USB reader with 2.1 amp charging support as well as HDMI/MHL inputs which enables the optional SMARTstream which allows smartphones and other personal devices to be plugged in directly and conveniently to the system. Content that is stored or being streamed LIVE to the device can be played with a quick and simple connection. This Hi-Def system also features (2) wireless (54) 32 bit wireless game controllers, audio/video inputs and outputs as well as a built-in 100 channel FM modulator with FM transmitter functions and much more. Not to mention the best warranty in the business, up to 3 year/60,000km full replacement warranty.

---
10.2″Mobile Video Overhead + Playstation 2 Entertainment System – ADV10PS2 

In Stock!
$1160 + install
(Grey / Tan Shrouds included)
What happens when you combine the world's most popular computer entertainment system with the number one mobile video system? Everybody wins! The ADV10PS2 comes with everything needed for gaming right out of the box: a 10.2 inch LCD screen with built-in dome light, two wireless game controllers, two fold-flat RF wireless headphones and two Playstation 2 game titles to get you started. There's also a remote control that controls the built-in DVD and Playstation 2 gaming system. 1 year warranty.
Overhead mobile video system with 10.2 inch screen and built-in dome lights

Playstation 2 system with built-in DVD player

Multi-functional remote control (controls the DVD in PS2 system and the overhead functions)

2 silver, Playstation 2 DUALSHOCK 2 wireless game controllers

2 Playstation 2 game titles

Built-in, 16 channel FM modulator with FM transmitter function

Infrared headphone transmitter

---

10.2″ Roof Mount DVD Video System W/2 Wireless Headsets – SDM107GY/SDM107SH
 

In Stock!
$600 + install
(Grey or Tan)

10.2″ High resolution Widescreen Overhead Monitor
Great for trucks, vans, SUVs, and other vehicles
Built-in Full function DVD Player
Built-in USB for the playback of digital media
Rotating swivel screen allows a greater viewing angle
IR transmitter for wireless headphones
Overhead dome lights
Slot-in loading DVD slot
Slim and compact design for a less noticeable installation
PAL/NTSC Compatible
3 Selectable screen modes:

(Wide)
(Normal/PS)
(Normal/LB)

OSD (On-Screen Display) for easy controls
1 rear RCA A/V inputs
1 side RCA A/V input
Compatible with DVD, SVCD, VCD, VCD, CD, CD-R, CD-RW, MP3, MPEG, JPEG, BMP, BMP, AVI, and JPEG
Screen Resolution: 800 x 480
Brightness: 400 cd/m2
Base color is Gray or Shale
Dimensions (Closed): 10-5/8″D x 13-1/8″W x 2″H
Dimensions (Open): 10-5/8″D x 13-1/8″W x 9-3/16″H
---

Power Acoustics PMD112CMX3 11.2″ OVERHEAD DVD VIDEO SYSTEM
w/2 wireless headsets 

In Stock!
$590+Install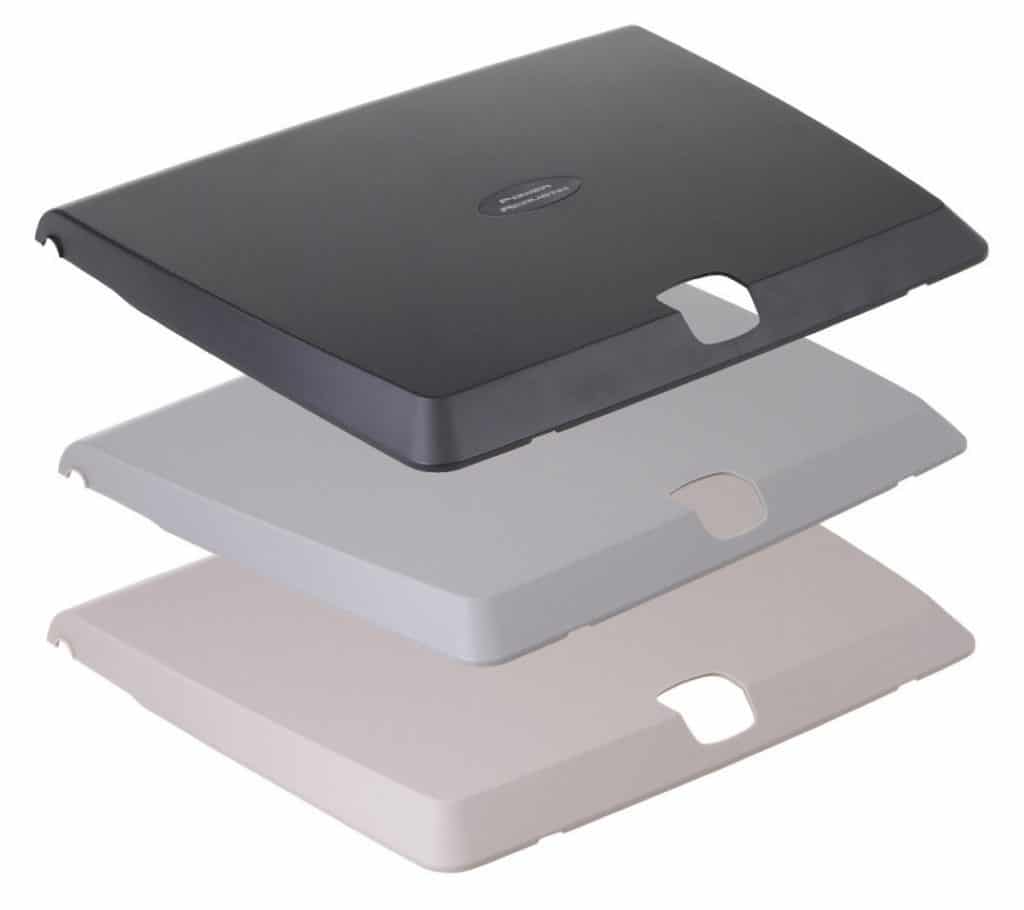 With interchangeable Color Skins (beige, black, grey) Color Matched Trim Rings for Sculptured Ceilings Included Car-Spec DVS DVD Drive for Extreme Temperature Exposure Video Playback from DVDR/RW or CDR/RW of DivX, XviD, MP3, & MP4 Playback from 16GB SD, 16GB USB Drive 90°/90° Swivel Screen A/V Output for Multiple Component Integration 2 A/V Input for Auxiliary Sources Rear Panel RCA A/V Input for Game Console Rear Panel Play/Pause Control Flash Memory for Last Position Recall NTSC / PAL Auto Selection 800 x 480 Screen Resolution 400 NIT Screen Brightness Dimensions: 14.5″w x 12.5″d x 2.5″h
---

Rosen Z10(Grey shroud) 10″ Overhead DVD with Games
$590+Install 

In Stock!

Features:
Highest Quality 10.2″ 16:9 widescreen LCD display that provides the best picture
Elegant modern design that matches the decor of any vehicle
Wide viewing angle makes it perfect for larger vehicles
Integrated slot loading DVD player located on the side of the unit
Front mounted buttons for full control without the remote control
Back mounted RCA inputs for external game system or other video source
Integrated LED Dome light with three position switch: auto turn-on, manual turn-on, off
Compatible with DVD-Video, DVD-R/-RW, Video CD, CD-R/-RW
5 Channel FM modulator
2 Channel IR wireless headphone transmitter: 2.3 – 2.8 MHz, 3.2 Mhz – 3.8 Mhz
PAL/NTSC Automatic selection
1 Year Warranty
High definition, Low reflection TFT LCD
Resolution: 800 x 480 x 3
---
DUAL HEADREST ENTERTAINMENT SYSTEMS
All dual headrest systems come with a 3 year warranty when installed on your new vehicle by ARA through any Dealership.

$2500 Installed 
In Stock
Some vehicles will require a premium leather upgrade charge(king ranch, Range Rover). Please call or email for specific application
Electronic packages always in stock. Custom headrest shells have a 2 business day delivery.
The all new Phoenix 7 system has a full 3 year warranty when installed on your new vehicle by ARA through any Dealership. All Phoenix 7 Systems come with dual removable tablets that Lock and Dock into our patented PerfectMatch™ headrests to ensure an "enjoyable" and "safe" experience. Meets FMVSS standards. Also comes standard with dual dvd players, 2 wireless headsets and interfaces into your factory stereo through a built in FM-transmitter. 
Custom matched headrests for any vehicle configuration, cloth, leather and even factory stitch match.  
Google App Store and Netflix will entertain any child for the duration of the next family trip to Kelowna.
Tablets are removable
The system used on active headrest vehicles is identical with the exception of not replacing the factory headrest.
---
 All Rosen Dual Headrest systems come with a 3 year warranty when installed on your new vehicle by ARA through any Dealership.
AV7950H Headrest Replacement Series
Complete installed price $2200 (most vehicles)
In Stock
This is our New Signature rear seat entertainment system! Applications available for many current and recent model year vehicles. Each system includes tablet-look styling, Hi-Res LCD display w/ capacitive touch controls instead of mechanical buttons and the ability to configure the system to meet your specific family and personal needs. Headrests are matched to your vehicles factory seating materials.
HDMI Installed In Rear Console
Can be installed in the front dash, center or rear consoles and can replace most 12V power ports 
HDMI / USB Harness
The HDMI harness allows for custom mounting. The added USB port is for charging only and supports 5V.
---
AV7700 Seat Back Series (used with active headrests)
$2200 complete installed
The Seat Back Series includes Hi-Res LCD displays w/ 50 video games, DVD players, USB port for flashdrive media devices, 3.5mm AUX input for external sources, 2-way up-down tilt, all-channel GM transmitter to play audio through the vehicles sound system and the ability to add front seat remote controls for each screen, a second auxiliary input for video game consoles, outputs for 2 additional screens and more. Custom mounting systems for Mercedes, BMW, Lexus, Chrysler/Dodge vehicles are available. In addition, there is a universal mounting system that will fit most adjustable headrest equipped vehicles.
COMPATIBILITY DVD & USB
GAMING 50 Built-in Video Games
WIRELESS Wireless Remote Control – 2 Fold Flat Headphones
DISPLAY 7″ Hi-Res Digital LCD Display
MEDIA FM Transmitter – Media Sharing Between Displays
SCREEN Tilt Screen
---
NSV 10" WIFI-ENABLED SEAT BACK SYSTEM
RSETY-MD10C-B1
$2200 Installed 
In Stock
Gaining industry traction quickly, our high-resolution, touch sensitive displays comes with easy-to-install brackets making it easy to add rear seat entertainment double-pole headrests without modification to the vehicle. The graphical user interface (GUI) can be fully customized to suit any OE design.
10" LCD monitors with highly responsive capacitive touch control and screen tilt
On-board connectivity with WiFi, HDMI, USB, and SD memory card slot (no DVD playback)
On-board Netflix & WiFi smartphone mirroring
Floor-facing selectable colour LED mood lighting
Built-in clips for simplified headphone storage
Coat rack with soft rubber-lined phone cradle
Screen sharing and separate content playback
Intuitive touch-screen operation
Sound playback through factory radio via FM
Fits vehicles with 150mm headrest post spacing
---

BMW X3 Armrest Video System w/DVD/USB/AUX – Black or Tan
$790 Complete Installed 
The BMW X3 armrest video monitor is a great option for those 2011-2013 BMW X3's. Features a 7-inch TFT-LCD monitor with built-in slot loading DVD as well as 3 RCA jacks and a USB port. The system also includes two single channel wireless headphones and a wireless remote control.
KEY FEATURES
 7″ TFT-LCD with 16:9 aspect
 Built-in slot loading DVD loader
Two wireless headphones included
 AV source (input) – 3 RCA jacks
 USB port
Built-in FM Transmitter